It's official! Tiger Woods new course Payne's Valley is open and it's everything you could have hoped for AND MORE! If you're a golfer, this is one course you definitely don't want to miss! Check in out here.
Payne's Valley is the first public-access golf course designed by 82-time PGA TOUR winner Tiger Woods and Woods-led golf course design firm, TGR Design
The name pays tribute to the Ozarks-native Payne Stewart
It has a 19th Hole
It has over 85 acres of fairway in total
The course is surrounded by water views and water features- including a natural water feature at the 5th Hole. Come explore the dramatic bridge that leads players over the lake on their way from the tee to the green.
The 19th hole is 140-yard par-3  hole that is surrounded by water called "Lunker Lake." It is considered to be "one of the most remarkable golf holes in the world."
The 19th Hole is stocked with trout and largemouth bass- so golfers have the opportunity to feed the fish while they play.
After completing the 19th Hole,  golfers follow the "Cliffhanger Trail," an almost 1-mile nature trail returning to the clubhouse. They can also choose to take the shuttle.
Find more tips & suggestions for the best Branson golf here and here.
Looking for a place to stay while in golfing?
We have 1-12 bedroom suites, cabins and homes available for rent!
Start exploring now!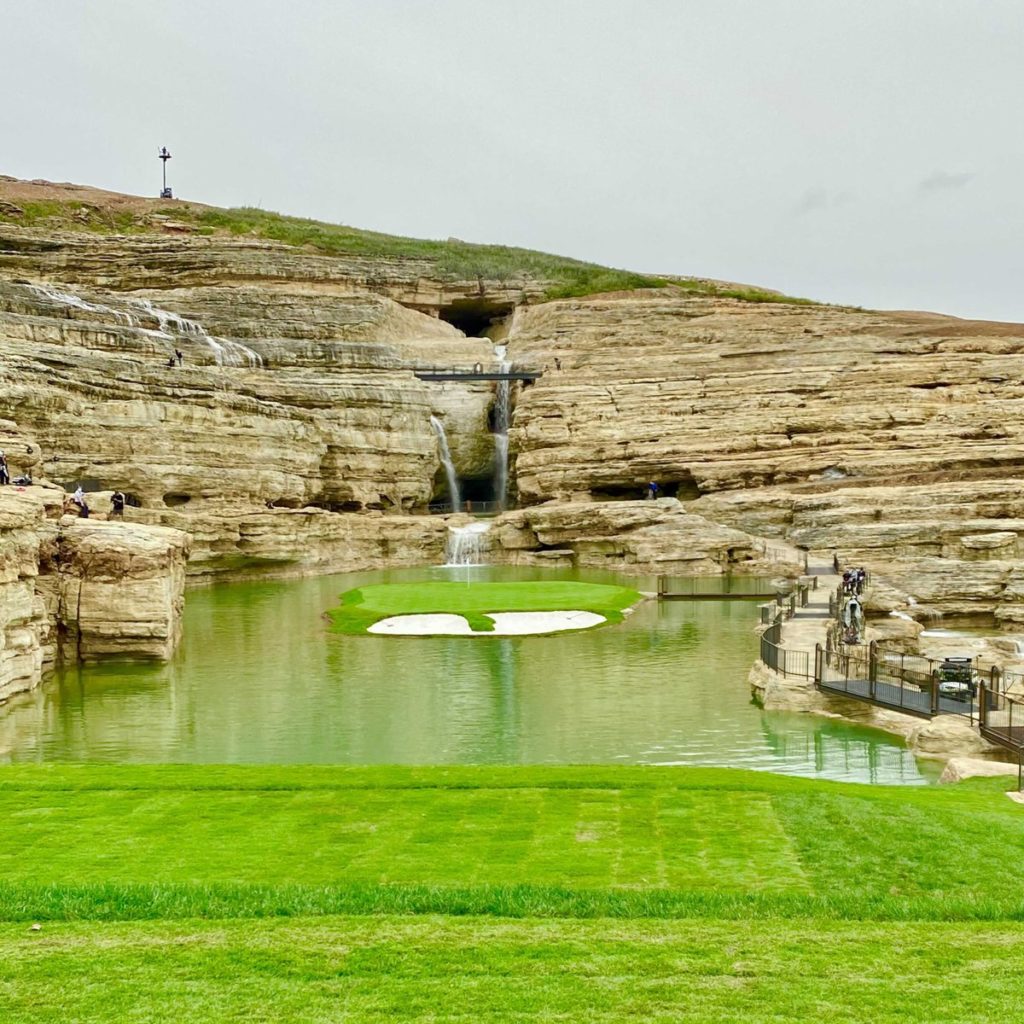 The city of Branson is traditionally known for its plethora of live shows. Recently, however, attention has shifted over to outdoor activities. Top of the Rock's Lost Canyon, located within Big Cedar, is a prime example of this.
Take the electric cart ride all the way to the Top of the Rock! This breath-taking nature trail will take you over beautiful Amish-covered bridges, through natural rock formations, and past waterfalls. End the ride with a tour of a stunning four-story cave! Explore the balconies, waterfalls, and rock formations; or sneak down to the cave bar to try of Top of the Rock's signature drinks!
Can't sit still for that long? Take a hike down the 2.5 mile trail to enjoy the Trail! The hour and 45 minute trek will lead you down through the Lost Canyon and up to a magnificent vantage point of Lake Table Rock. You can even end the experience with relaxing dinner on the balcony of Arnie's Barn.
After a perfect day, be sure to come back and prop up your feet at your Amazing Branson Cabin! We are less than 5 minutes from Top of the Rock and have a cabin to accommodate your needs! Visit our Branson blog to discover other Branson activities! Need to be a homebody? See our list of amenities and activities to do on property!